We lost two Mets this past week.
RIP gentlemen.
You will live forever on your baseball cards.
I remember
Tony Phillips
mostly from his A's days. I was collecting baseball cards during that time and he was a notable player. I'd like to say he was an all-star second baseman, but he wasn't. Something about him must have gotten my attention back then if I was pulling his rookie and regular issue baseball cards and putting them in the "special players to watch" pile. I don't recall what gave me that impression. (update:
Phillips had a 50.8 WAR, the highest lifetime WAR for a player never selected to a MLB All Star team.
)
His most notable achievement was garnering 16 MVP votes for his 1993 season with the Detroit Tigers in which he had 707 plate appearances, batting .313 with an OPS of .841.
I hate to say I remember absolutely zeeeero about his stint in a Mets uni. I'm sure I was watching & I'm sure I saw him do stuff. I do recall him in a Mets uni. But that's about it.
Surprisingly I had some difficulty finding quality photos of Phillips as a Metropolitan. The shot used below is off of one of his 1999 Fleer baseball cards.
The Mets got Tony from Toronto at the trade deadline in 1998. These were Bobby Valentine's Mets, the team that would start to heat up in '98, make the postseason in 1999 and the World Series in 2000. But Phillips was gone before all of that.
When he arrived in New York in '98 he immediately was inserted in the lead-off slot, displacing Brian McCrea who was batting a shallow .265.
Phillips looked like he might be the answer to New York's lead off needs as he batted .385 with 5 runs scored & a homer during his first week with the club, but he soon tailed off badly. His average plummeted to .223 by the end of September.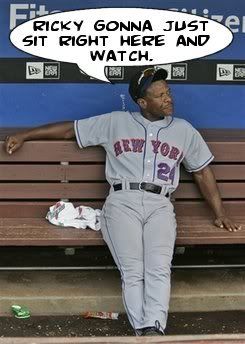 The veteran player wasn't interested in playing for the Mets in 1999 and moved on. I didn't even notice because the Mets signed stolen base king and lead off batter extraordinaire Rickey Henderson early in that offseason and he would top the order for New York in 1999.
Reading today I see Mr. Phillips had his own personal demons.
56 years old. Too young :(
My condolences to his family and friends.
_________________________________________
The same for Kevin Collins family and friends. My condolences.
I knew nothing about
Kevin Collins
other than he looked good on his baseball card (1969t
pictured above link below
- the photo Topps used was at least four years old! Wacky Topps!
). Mr Collins would have been 70 come August and from what I've read since his passing he was a nice guy who lived a nice, happy and fulfilling life.
Collins was with the organization for a string of years in the late 60's. He was a September call up in 1965 at the tender age of 18, possibly before he was ready for the majors.
Jon Springer, author and host of the website
Mets By The Numbers
, wrote a great bio for Kevin at the SABR (
Society For American Baseball Research
) that really fleshes out Mr. Collins nicely. Mr. Springer's interview with Collins also touches on how it was for such a young player at that time in Mets & baseball history. Since reading this I have a much better sense and knowledge of Collins as a player and as a person. A must read for serious Metropolitan fans.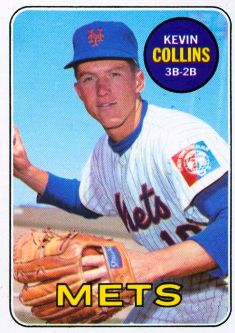 who informs us that
Collins' passing means the oldest man to
wear four different Met uniform numbers is now Ed Lynch.
As he was fond of saying,
"
Without me you don't get Donn Clendenon."
I don't know how Mr. Collins got by me while I was making the earlier Mets Fantazy Cards. I had some decent photos and I meant to, but looking back I have no Collins cards.
I did put him on a 1970 mfc Mets Rookies card but that was a gross error considering he had already come and gone in 1970. That card has been pulled (in disgrace) from the mfc pages.

To make up for messing up his Metly playing time I made a card for each year that he appeared on the Mets and these cards will be added to the appropriate year's mfc collection.
I knew I remembered Kevin Collins from something else. Something special. I have his Topps rookie card from 1965! Yea, I have a few real cards.
I picked this up in the mid 1980's relatively cheap considering Tony Perez has top billing. I knew a common Mets player was on the Perez rookie card but had forgotten it was Collins.
The corners are a bit busted but it's a nice print, well centered. I have no idea what this card is worth today but I keep it in a lock box with my Seavers, Ryans and other Mets "money cards" and that puts it in the "treasured" category.
R.I.P. Kevin Collins.
________________________________________________
I'd like to thank Batmagadanleadoff of the CPF for the photo used on Kevin Collins '68mfc card and the WAR info on Tony Phillips.